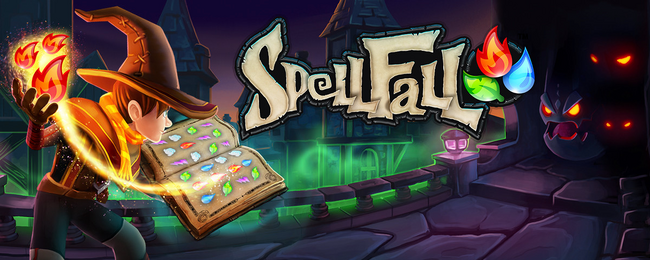 ---
| Current IconCurrent Icon | Google Play IconGoogle Play Icon | Original IconOriginal Icon |
| --- | --- | --- |
Store Description
Edit
"

Match Tiles. Cast Spells. Conquer Evil.

Spellfall™ is a unique tile-matching puzzle game where you cast magical spells to defeat evil monsters. Along the way, you'll master new spells, grow more powerful and acquire new equipment to aid in your fight.

Evil has met its match!

• Match 3+ Spell Tiles • Cast Powerful Spells • Defeat Wicked Monsters • Equip Gear & Abilities • Work Your Magic!

Each monster match-up includes an increasingly challenging tile puzzle board. Match three fire tiles to cast a fire spell. Match three water tiles to conjure a water spell. Line up four or more matching tiles to inflict even mightier damage.

Defeat the evil beasts and you'll be rewarded with better weapons, special abilities and magical powers needed to overtake more fierce opponents encountered later in your journey. Cast out the dark spirits and save the world from ruin. Spellfall is a match for the ages.

Play Spellfall today. It's free!

"



 

— Store Description 
About the App
Edit
SpellFall is a is a unique tile-matching puzzle video game where the player casts magical spells to defeat evil monsters. The game is created by Backflip Studios and is available for both the iOS and Android platforms. It can be downloaded for free from the Apple App Store and the Google Play Store. The iOS version can be played on the iPod Touch, iPhone and iPad while the Android version can be played on any modern tablet or phone running Android.
SpellFall was released on August 13, 2014 and uses the freemium business model.
On September 12, 2014, SpellFall was released on Google Play in Canada following the same business model.
Although the game is free to play, players can use their iTunes and Google Play accounts to make in-game purchases of game currency to help buy armor, runes, and weapons to help defeat the evil monsters. SpellFall does not require an Internet connection to play (3G or WiFi).
Players may also choose to connect with friends on Facebook so any friends with the game will be identified as SpellFall friends. Having SpellFall friends in the same region as you will allow you to have extra moves during gameplay.
It is possible to have three save files of SpellFall at the same time by accessing the Save Slots Menu from the bottom-right corner of the main screen after the game loads.
There is a Tutorial which occurs at the beginning of SpellFall to help players learn how successfully play the game.
The gallery below is an example of the Tutorial which can be seen when starting a new game slot.
| | | |
| --- | --- | --- |
| |        | |
| SpellFall App Store/Google Play Gallery |        | SpellFall Announcement Gallery |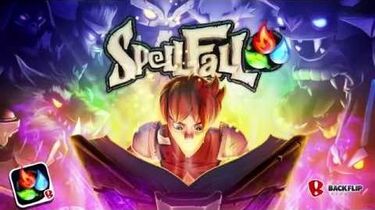 SpellFall Gameplay - Backflip Studios
On October 13, 2014 the App Icon changed.
---